Test your knowledge about Civil Engineering  – Concrete Technology by taking this Multi Choice Question (MCQ) quiz. Get your score and actual answers at the end of this quiz.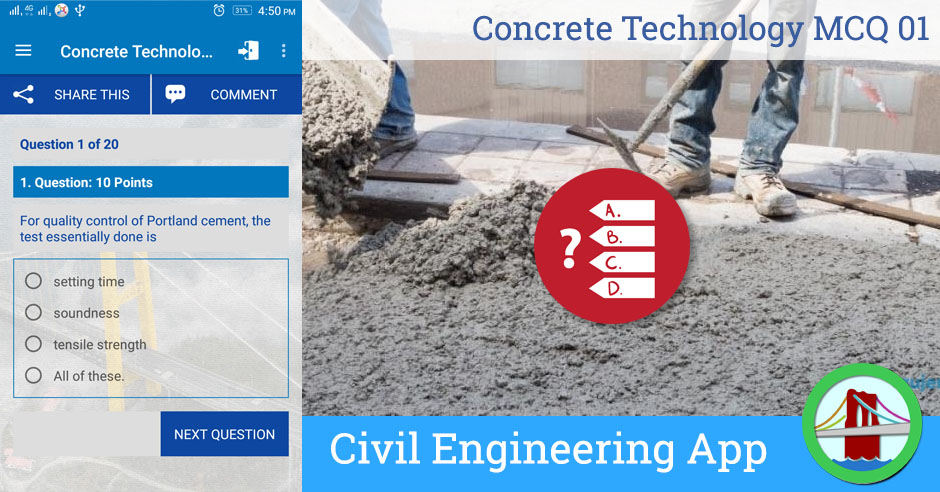 1. For quality control of Portland cement, the test essentially done is
setting time
soundness
tensile strength
All of these.
2. If 1500 g of water is required to have a cement paste 1875 g of normal consistency, the percentage of water is,
20%
25%
30%
35%
3. Under normal conditions using an ordinary cement, the period of removal of the form work, is
7 days for beam soffits
14 days for bottom slabs of spans 4.6 m and more
21 days for bottom beams over 6 m spans
All of these.
4. For given water content, workability decreases if the concrete aggregates contain an excess of
thin particles
flat particles
elongated particles
All of these.
5. M10 grade of concrete approximates
1 : 3 : 6 mix
1 : 1 : 2 mix
1 : 2 : 4 mix
1 : 1.5 : 3 mix
6. For ensuring quality of concrete, use
single sized aggegates
two sized aggregate
graded aggregates
coarse aggregates.
7. The risk of segregation is more for
wetter mix
larger proportion of maximum size aggregate
coarser grading
all the above.
8. After casting, an ordinary cement concrete on drying
expands
mix
shrinks
none of these.
9. Permissible compressive strength of M 300 concrete grade is
100 kg/cm2
150 kg/cm2
200 kg/cm2
300 kg/cm2
10. While compacting the concrete by a mechanical vibrator, the slump should not exceed
2.5 cm
5.0 cm
7.5 cm
10 cm
11. An aggregate is said to be flaky if its least dimension is less than
1/5th of mean dimension
2/5th of mean dimension
3/5th of mean dimension
4/5th of mean dimension
12. The increased cohesiveness of concrete, makes it
less liable to segregation
more liable to segregation
more liable to bleeding
more liable for surface scaling in frosty weather
13. The ratio of the length to breadth of a wooden float, is
4.5
5.5
6.5
7.5
14. Workability improved by adding
air-entraining agent
foaming agent
oily-agent
all the above.
15. The commonly used material in the manufacture of cement is
sand stone
slate
lime stone
graphite.
16. Curing a concrete for long period ensures better
volume stability
strength
water resistance
all the above.
17. For the construction of cement concrete floor, the maximum permissible size of aggregate, is
4 mm
6 mm
8 mm
10 mm
18. The process of proper and accurate measurement of concrete ingredients for uniformity of proportion, is known
grading
curing
mixing
batching
19. Transport of concrete by pumps, is done for a distance of
100 m
200 m
300 m
400 m
20. Slump test is done for
clay
concrete
sand
lime
Result
You have attempted 0 of 20 questions
Correct Answers : 0 of 20
Percentage Marks : 0%