Test your knowledge about Civil Engineering Construction Materials by taking this Multi Choice Question (MCQ) quiz. Get your score and actual answers at the end of this quiz.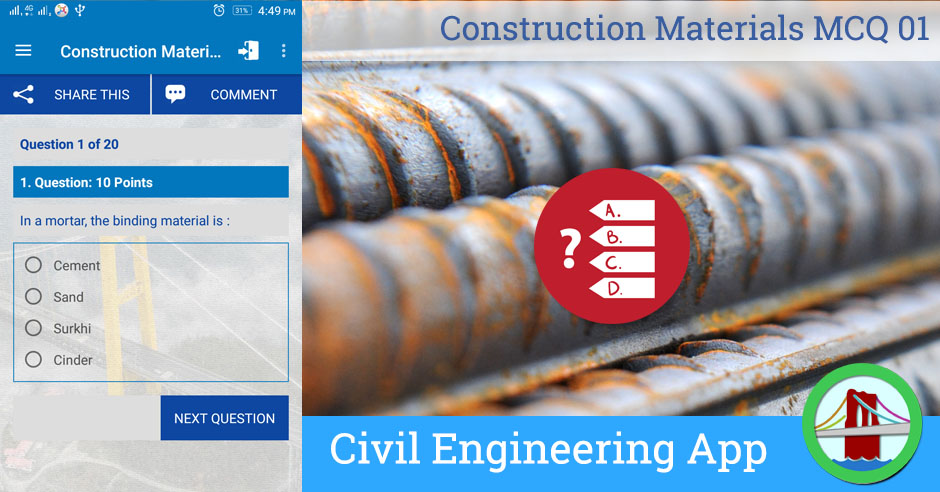 1. In a mortar, the binding material is :
Cement
Sand
Surkhi
Cinder
2. Wrought iron contains carbon upto:
0.25%
1.00%
1.50%
2%
3. Which one of the below is a polymineralic rock?
Quartz Sand
Pure Gypsum
Magnesite
Granite
4. Which of the following provides ultimate strength to the cement?
Tricalcium Silicate
Di-Calcium Silicate
Tri-Calcium aluminate
Tetra calcium alumino ferrite.
5. How many times of their original size elastomers can extend upto?
5
7
10
3
6. Which of the following is true about Bitumen Felt?
is used as water proofing material
is used as damp proofing material
is made from bitumen and hessian fibres
all the above.
7. In the cement the compound quickest to react with water, is
Tricalcium aluminate
Tetra-calcium alumino-ferrite
Tricalcium silicate
Dicalcium silicate.
8. The initial setting time of lime-pozzolana, is
30 minutes
60 minutes
90 minutes
120 minutes
9. The clay to be used for manufacturing bricks for a large project, is dugout and allowed to weather throughout
the monsoon
the winter
the summer
none of these.
10. The rocks which are formed due to cooling of magma at a considerable depth from earth's surface are called
Plutonic rocks
Hypabyssal rocks
Volcanic rocks
Igneous rocks.
11. The variety of pig iron used for manufacture of wrought iron, is
Bessemer pig
Grey or foundry pig
White forge pig
Mottled pig.
12. Stainless steel contains :
18% of chromuim and 8% nickel
8% of chromium and 18% of nickel
12% of chromium and 36% of nickel
36% of chromium and 12% of nickel.
13. The main constituent of fly-ash, is
aluminium oxide
silica
ferrous oxide
All of these.
14. Due to attack of dry rot, the timber
Cracks
Shrinks
Reduces to Powder
none of these.
15. For the manufacture of Portland cement, the proportions of raw materials used, are
lime 63% ; silica 22% ; other ingredients 15%
lime 22% ; silica 63% ; other ingredients 15%
silica 40% ; lime 40% ; other ingredients 20%
silica 70% ; lime 20% ; other ingredients 10%.
16. The rocks formed by gradual deposition, are called
sedimentary rocks
igneous rocks
metamorphic rocks
none of these.
17. Galvanising means covering iron with a thin coat of
tin
zinc
glaze
coal tar
18. Sewer Pipes are made of
earthen ware
stone ware
refractory clay
terracota
19. Varnish is a transparent or semi-transparent solution of resinuous substances in
alcohol
linseed
turpentine
all the above.
20. Initial setting time of cement for asbestos cement products should be not less than
30 minutes
50 Minutes
75 Minutes
90 Minutes
Result
You have attempted 0 of 20 questions
Correct Answers : 0 of 20
Percentage Marks : 0%