Test your knowledge about Civil Engineering Construction Materials by taking this Multi Choice Question (MCQ) quiz. Get your score and actual answers at the end of this quiz.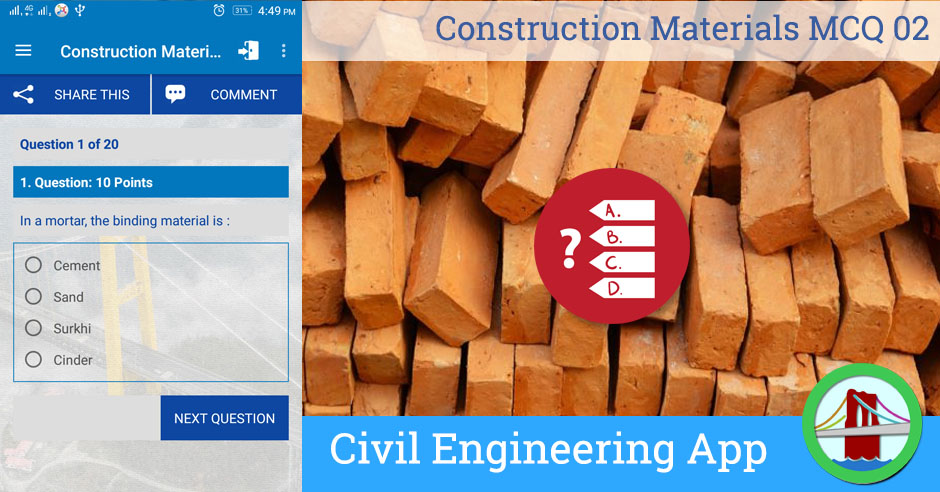 1. A badly mixed cement concrete results in
segregation
bleeding
honey combing
none to these.
2. Inner part of a timber log surrounding the pitch, is called
sapwood
cambium layer
heart wood
none of these.
3. The filler used in plastic bitumen is
Shale powder
talc powder
asbestos powder
plastic powder
4. Refractory bricks are used for
retaining walls
columns
piers
combustion chambers
5. The rock generally used for roofing is
granite
basalt
slate
pumice
6. Apiece of sawn timber whose cross-sectional dimensions exceed 5 cm, in one direction and 20 cm in the other direction, is called a
cant
deal
baulk
strip
7. Pick up the correct statement from the following:
soft stones are required for carving
light stones are required for arches
hard stones are required to stand high pressure
All the above.
8. Name the type of cement from the following for canal linings :
sulphate resisting cement
rapid hardening cement
quick setting cement
pozzuolana cement.
9. Mastic asphalt is generally used for
damp proof course
water proof layer
partition walls
both (a) and (b).
10. The most fire resistant paints are :
enamel paints
aluminium paints
asbestos paints
cement paints.
11. The commonly used lime in white washing, is
white lime
fat lime
hydraulic lime
lime
12. The lime which contains mainly calcium oxide and slacks with water, is
fat lime
quick lime
hydraulic lime
poor lime
13. Inhaling of fly-ash over a long period causes
silicosis
fibrosis of lungs
bronchitis
All of these.
14. Minimum required water cement ratio for a workable concrete, is
0.3
0.4
0.5
0.6
15. The compound of Portland cement which contributes to the strength after two to three years is
Tricalcium silicate
Di-calcium silicate
Tricalcium aluminate
Tetracalcium alumino ferrite.
16. Clay and silt content in a good brick earth must be at least
50%
40%
30%
25%
17. The portion of the brick without a triangular corner equal to half the width and half the length, is called
closer
queen closer
king closer
squint brick.
18. The standard size of masonry bricks, is
18 cm x 8 cm x 8 cm
19 cm x 9 cm x 9 cm
20 cm x 10 cm x 10 cm
21 cm x 11 cm x 11 cm
19. A good quality stone absorbs water less than
5%
10%
15%
20%
20. Plywood is made from
common timber
bamboo fibre
teak wood only
asbestos sheets
Result
You have attempted 0 of 20 questions
Correct Answers : 0 of 20
Percentage Marks : 0%